Model OTPN-3000 Precision Optic Node
The Model OTPN-3000 Precision Optic Node includes a high-performance 1550nm CATV receiver, a precision 3-wavelength (1310nm, 1490nm & 1550nm) optical power meter and battery power sufficient for four hours of operation. The OTPN-3000 CATV receiver is fully compatible with all 1550nm forward path transmitters. The Precision Optic Node is unique because it operates over a ultra-wide optical input range of -8dBm to +4.5dBm without degrading performance. Learn More.
OTPN-3000 Precision Optic Node
NeverOff Series Miniature Stand-by Power Supplies
Olson Technology introduces the new Standby Power Source, a DC UPS that can provide power backup functions for critical CATV and communications elements that are typically powered by low voltage DC power. The series can be utilized in a multitude of applications and provide long term battery standby power of up to eight hours or more Units are available from 5 Volts out to up to 18 Volts output. Learn More.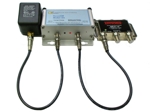 NeverOff DC Standby Power Supplies
OTEN Series Ethernet Fiber Optic Links
EtherNodePlus Media and Wavelength Converters support up to two 10/100/1000Mb/s UTP ports and up to two 1000Mb/s SFP sockets to convert between 1000Base-T, 1000Base-SX, 1000Base-LX, etc. Model OTEN-WC also allows network operators to incorporate multiple fiber types within a network. The series also includes Model OTDL-FOM-01 RS-232/422/485 Serial Fiber Optic Modem, which is ideal to connect RTU to host or SCADA controllers via optical fiber. Learn More.
OTEN-4P-01 4-Port Media Converter, 10/100/1000M, SFP